Jerusalem – Hierosolima
JERUSALEM, a fifteenth century impression of Biblical Times
Detail
Date of first edition: 1493 (Latin edition)
Date of this map: 1493 (German edition)
Dimensions (not including margins): 35 x 23 cm
Condition: Excellent. Sharp woodcut engraving printed on strong paper.
Condition rating: A+
Map reference:  LAOR 1123
From: famous Liber Chronicarum (also known as the Nuremberg Chronicle), Anton Koberger, Nürnberg, 1493
Unless otherwise specifically stated on this map page, we charge the following expedition costs in euro: 
– Benelux: 20 euro
– Rest of Europe: 30 euro
– Rest of the World: 50 euro
This item is sold
Hartmann Schedel and Jerusalem
In his Nuremberg Chronicles Hartmann Schedel (1440 – 1514) describes in 1493 the human history, as related to the Bible and with special references to European cities. He divides time up in six ages, starting at the Creation. The final part covers the period between the birth of Christ and Renaissance Europe. The Chronicle contains 1804 illustrations made from 652 woodblocks.
In the Second Age (which goes up to the birth of Abraham), Schedel portraits Biblical Jerusalem as the ideal place with round triple ramparts (this map). The perfect human microcosm according to the teachings of Pythagoras is architecturally represented by a triple base with a 5-fold arcade structure. Schedel names the six outer gates. The city is dominated by the round Temple of Solomon. Fantasy takes over:
• While the Second World describes the period until Abraham, whose life could be situated in the 18th century BC, Solomon's temple was only built around 1000 BC. This first temple would be destroyed in the 6th century BC.
• In addition, according to unanimous findings of historians and archaeologists this temple was rectangular (see depictions). Is there somehow an influence by the circular shape of the dome of the rock which was built between 688 and 692 AD at the same place?
The Fourth Age of the Chronicles covers the period from the Kings David and Solomon to the destruction of Jerusalem. This larger woodcut by Schedel blends several epochs: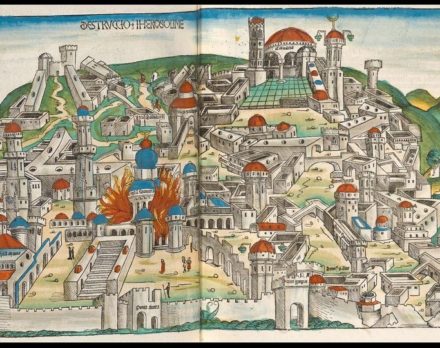 At the steep Mount of Temptation in the top left corner (currently identified as mount Quarantania near Jericho) Jesus is temped by the devil. The tomb of Jesus is identified by the writing "sepulchrum est domini" on a round building just below the ruined walls. In the top center of the view, Schedel shows "Calvariae", based on an illustration by Reuwich (a Dutch woodcut artist working in Mainz). This sanctuary is embellished with a bell-tower to its left and a minaret with crescent to its right. Solomon's temple, ablaze, symbolizes the destruction of the Holy City. Schedel referred to Josephus Flavius as one of his sources.