Bratislava – Pressburg/Posonium vel Pisonium vt Lazius Hungariae urbs
by
Georg Braun and Frans Hogenberg
Detail
Date of first edition:  1588
Date of this map: 1599
Dimensions (not including margins): 29 x 49 cm
Condition: Excellent copper engraving. Hand colouring. . Strong paper and wide margins .
Condition rating: A+
Verso: text in Latin
Map reference: Taschen Br. Hog., p. 322
From Civitates Orbis Terrarum, Liber quartus Urbium Praecipuarum totius Mundi. Koeman, B&H4
Unless otherwise specifically stated on this map page, we charge the following expedition costs in euro (unfortunatelly, gone up with Covid, but still too low in reality!): 
– Benelux: 40 euro
– Rest of Europe: 60 euro
– Rest of the World: 100 euro
This item is sold
Bratislava, capital again
Roman "Posonium" was as a location situated on the Danube, already inhabited during the ice age. Its first site was located on the hill, top left. It became a fortress in the 9th century. Now Bratislava castle serves as a museum for representational purposes. It is depicted on the Slovak coins of 10, 20 and 50 euro cent. The Crown Tower houses the crown jewels. The castle was later reinforced by the kings of Hungary and was never taken by the Mongols during their siege in 1241-1242 by the Mongols during their siege.
Already in 1467 King Matthias Corvinus founded a local university. After the fall of Buda by the Turks (1526), ​​Bratislava became the capital of a reduced Hungary.
Centrally adorns the Cathedral of Saint Martin (with long roof) where the kings of Hungary were crowned between 1563 and 1830. This is logical since Budapest was occupied for a long period by the Ottomans.
Bratislava was part of the Kingdom of Hungary from the 10th century to 1918 and was named the capital in 1783. Long time called under its German name, Pressburg, the name Bratislava was officially used since March 1919 in the founding of Czechoslovakia.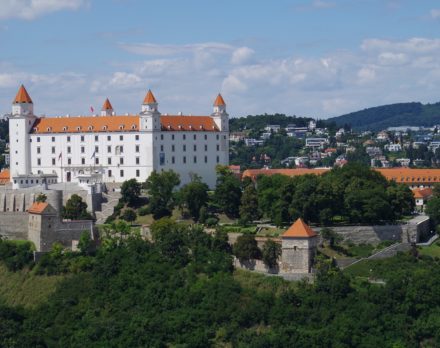 In 1993, the city became the capital of the newly formed Slovak Republic following the Velvet Divorce.