Budapest
by
Georg Braun and Frans Hogenberg
Detail
Date of first edition: 1617
Date of this edition: ca. 1617
Dimensions (not including margins): 32 x 48,5 cm
Dimensions (including margins): 41,5 x 53,6 cm
Condition: Very good. Sharp copper engraving printed on paper with watermark. Old coloured. Centre fold as published. Wide margins. Slightly age-toned.
Condition rating: A+
Verso: text in Latin
Map reference:  van der Krogt IV,2-1, 689; Taschen, Br. Hog., p. 470
From: Civitatis Urbis Terrarum (VI: Theatri praecipuarum Totius Mundi Urbium Liber Sextus Anno MDCXVII), first published 1617. Van der Kroogt IV,2-1, 41:1-3, page 30.
Price (without VAT, possibly to be added):
€

2 800,00
(FYI +/- $3 080,00 / £2 408,00)
Unless otherwise specifically stated on this map page, we charge the following expedition costs in euro: 
– Benelux: 25 euro
– Rest of Europe: 40 euro
– Rest of the World: 60 euro
In stock
Budapest commented by Braun
"The main church there was erected by Kings Géza and Ladislas in honour of the Mother of God […]. Opposite the palace is a high hill on which the Turks today have a strong fortress and garrison. Formerly it was called St Gellert's Hill because a church was dedicated to him there, where pilgrims came in times of plague. […] But at present nothing is to be found there except Mohammedan abominations. Opposite Buda, on the other side of the Danube, is Pest – also a free city, but somewhat smaller than Buda – in a flat, very fertile area with fine garden and meadows, such as are found in no other place. And it is a great pity that these two fine cities together with all the surrounding area have fallen into the hands of the Turkish archenemy."
TRANSLATION OF CARTOUCHE TEXT TOP: Buda, capital of Hungary and ancestral seat of the king, called Ofen in German. Original title: Buda Citerioris Hungariae Caput Regni avita sedes vulgo Ofem
CARTOUCHE BOTTOM: A. New outwork – B. Fortress and royal palace – C. Former church of the Holy Virgin, today a mosque – D. Vineyards – E. The Bassa of Buda – F. A barbaric tribe among the Turks, fearless and ready to commit any atrocity; they are commonly known as the Deli. They stick feathers through the skin on their heads, which makes them appear even more bloodthirsty. More can be read about them in the descriptions of the Turks by Johannes Lewenclavius.
Buda and Pest engraved by Hoefnagel
This view of Buda and Pest, respectively, on the western (bottom view) and eastern (top view) banks of the Danube river connected by a wooden bridge, was engraved by Hoefnagel in 1617. The Buda fortress and palace, were built on the local hill by king Béla IV of Hungary in 1247. In 1361 it became the capital of the kingdom of Hungary. Under king Matthias Corvinus from 1458 to 1490 Hungary and Buda blossomed Buda. In the city of Mohács (on the Danube located near the current border with Croatia) Hungarian king Lajos II was defeated by the Ottomans in 1526; they immediately took Pest. And in 1541 the west bank of Buda followed. A successful siege in 1686 brought the city after 145 years Ottoman domination into Habsburg hands. In the meantime the newer quarter, Pest, became more important. Three cities, Buda and Obuda on the west bank of Danube and Pest on its east bank merged in 1873 to form Budapest.
This view (in an exceptional circular frame) shows both cities from the Turkish era from a virtual high point above Buda. One notices the many minarets in mosques (later converted into churches). So, "C" is the current Matthias Church. On the foreground at the right one sees the pasha of Buda with next to him in "F" a soldier with feathers of Deli, the Ottoman elite troops. "B" is the old royal palace. Braun and Hogenberg already showed a smaller view of the walled city of Buda in part I (of their atlas), together with a picture of Vienna. That view, based a wood engraving by Erhard Schön, shows the town before the capture by the Ottomans.
Old Buda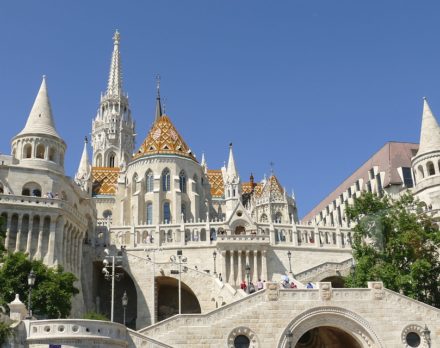 The 19th century Parliament at Pest