Île-de-France (Paris region)
Detail
Date of first edition: 1598
Date of this map: 1598 (first edition)
Dimensions (not including margins):  37,5  x 45,5 cm
Dimensions (including margins): 49,5 x 60,3 cm
Condition: very good. Sharp copper engraving printed on strong paper. Centre fold is as published. Original colouring. Wide margins.
Condition rating: A+
Verso: text in French
Map reference: Van der Krogt IIIB, 4300:31. Van den Broecke 41
From: Théatre de l'Univers, Antwerpen, Plantin Press, 1598. Van der Kroght IIIB,31:351, page '26'
Price (without VAT, possibly to be added):
€

550,00
(FYI +/- $610,50 / £489,50)
Unless otherwise specifically stated on this map page, we charge the following expedition costs in euro (unfortunatelly, gone up with Covid, but still too low in reality!): 
– Benelux: 40 euro
– Rest of Europe: 60 euro
– Rest of the World: 100 euro
In stock
Ortelius and Île de France
Let's go for an idyllic horse ride around Paris… offered by Ortelius anno 1598.
Three rivers dominate this scene: the Marne (entering from the east, right), merging into the Seine (bottom) and the "Oyse" (flowing down from the north east, top left). In the north (or "septemtrio", top of map) lie (the now fabulous) Chantilly and Senlis. In the east we recognize Pontoise and Auvers on the O(y)(i)se (i.e. "Auvers-sur-Oise", where Vincent van Gogh would pass his last months, some 300 years later, in 1890).
Closer to the renaissance capital two walled parks stand out: at the left "Madrid" (with just below the then villages of Longchamp and Boulogne; all integrated in the current-day Bois de Boulogne and at the right "Vincennes" with its castle.
The fortress/palace of Vincennes goes back to the 12th century, when Louis VII (1120 – 1180; see first picture) built a hunting lodge on this spot. Several French kings married in the castle Philippe III (in 1274) and Philippe IV (in 1284); other died here, such as Louis X (1316), Philippe V (1322) and Charles IV (1328). Also the imprisoned was English King Henry V (after his defeat at Meaux at the Marne (right on the map). Only at this river town the German troops were stopped in September 1914 (WW I: at the first battle of the Marne). As for the castle of Vincennes just one of its six donjons has survived the times. Did you know that even la femme fatale, Mata Hari, was also executed here at Vincennes (in 1917)?
Just west (left) of the walled city, the "Mont martre" visibly towers (see picture below with in the forefront the Old Louvre castle).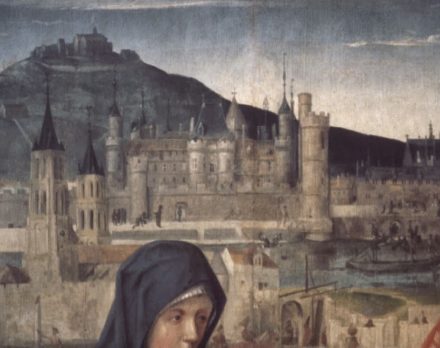 Mount your horse again and visit the romantic villages such as, Passy, Auteui and Saint Cloud; all now absorbed in Greater Paris. Or even Saint Denis, where most French kings were buried in its Basilica (see last picture).
The scale at the left bottom is in "leuga": 1 old French (i.e. up to 1667) league (or lieue) corresponded to 10.000 "pied-du-roy" or approximately 30 cm (which means that the old French pied-de-roy is almost the same as an English foot), and thus measures about 3.26 km. Have a look at the scale again: every blue or red stripecequals 3.26 km.
This map shows a part of current-day Île de France; only what is situated north of the Marne-Seine line has been illustrated. So there is no Versailles (south of the Seine) or Fontainebleau to be seen!
Concerning the origin of this map: Under the top left cartouche Ortelius mentions the origin of this map: Adam la Plache wrote him in 1595 that he had received a manuscript map from Pierre Pthou, but originating from "François de la Guilloyière" (now Guillotière). La Guillotière was a French cartographer (born in Bordeaux – died in Paris in 1594), of which this is one of the only maps which have come to us. Ortelius only incorporated the map in his atlas editions from 1598 until 1609. This map is from the first edition, 1598. The rather broad structural framing of the map is "very old-fashioned 16th century".
Related items
Burgundy – Burgundia Ducatus

by

Gerard Mercator

,

Jodocus Hondius Jr.

Price (without VAT, possibly to be added):

€

350,00

/ $388,50 / £311,50

Lorraine – Lotharingia Ducatus

by

Gerard Mercator

,

Jodocus Hondius Jr.

Price (without VAT, possibly to be added):

€

350,00

/ $388,50 / £311,50