Peleponnesos
Large, rare and exceptional
Detail
Date of first edition:  ca. 1680
Date of this map: ca. 1680
Dimensions (not including margins): 50 x 76 cm
Dimensions including margin: 52,7 x 80,6 cm
Condition: Very good print on strong paper with wide margins. Triple vertical folds as published.
Verso. blank
Condition rating: A+
Map reference: Zacharakis, 3709/2387
Price (without VAT, possibly to be added):
€

3 500,00
(FYI +/- $4 270,00 / £3 010,00)
Unless otherwise specifically stated on this map page, we charge the following expedition costs in euro: 
– Benelux: 20 euro
– Rest of Europe: 30 euro
– Rest of the World: 50 euro
In stock
An exceptional carte-à-figures
Its modern name derives from ancient Greek mythology, specifically the legend of the hero Pelops. He was said to have conquered the entire region. The name Peloponnesos means "Island of Pelops". During the Middle Ages, the peninsula was known as the Morea. According to folk etymology, this is because the Crusaders found it densely planted with mulberry trees (Greek: moreai) used by the flourishing silk industry.
Maps of the Peloponnese as one entity had already been published by Mercator-Hondius and Blaeu. This version by de Wit from around 1680 is special. The Peleponnese had been a contention between Venice and the Ottoman empire. It is apparent from the side views that the Peloponnese was at that time ruled by the latter: minarets are everywhere visible.
In a clockwise direction the following towns and ports have been depicted: Lepanto, S. Maura, Cerigo, Atene, Misitra, Modon, Napoli, Coron, Patrasso, Malvasia, Corinto, Cas. Tornesi, Zarnata, Navarino.
It was at Lepanto (now known by the Greek name Návpaktos) at the entrance of the Gulf of Corinth in 1571, that a large sea battle took place between the Holy League (alliance of Christian countries bordering the Mediterranean) and the Ottoman fleet. The battle resulted in no territorial shifts.
Misitra (Mistras) in all in splendid Byzantine ruins: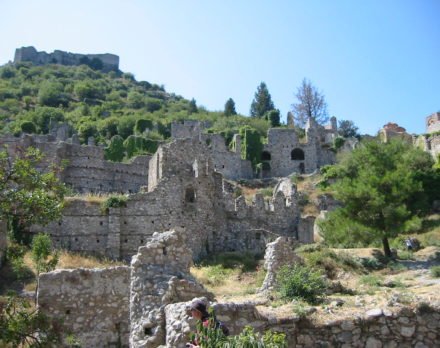 Malvasia (Monemvasia) the name of the rock  is derived from two Greek words, mone and emvasia, meaning "single entrance":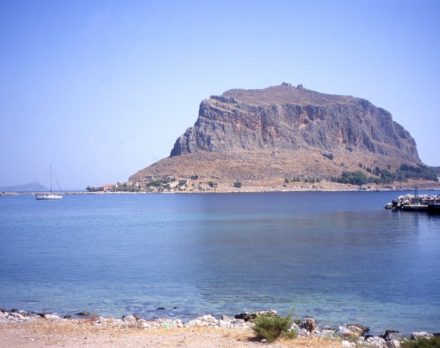 Title: Peleponnesia hodie Moreae Regnum Distincte Divisum…