Hangzhou or Quinzay
Detail
Date of first edition: 1638
Date of this map: 1638
Dimensions of the map (not including margins):  18 x 25,5 cm
Condition: Very good. No centre folds. Slight tone-aging. This map is framed.
Condition rating: A+
Verso: blank
Map reference: Fauser, #5441.
From: Gottfried J.L. – Merian M. Newe Archontologia Cosmica, … Frankfurt, W. Hoffmans, 1638;.
Price (without VAT, possibly to be added):
€

700,00
(FYI +/- $777,00 / £623,00)
Unless otherwise specifically stated on this map page, we charge the following expedition costs in euro (unfortunatelly, gone up with Covid, but still too low in reality!): 
– Benelux: 40 euro
– Rest of Europe: 60 euro
– Rest of the World: 100 euro
In stock
Quinzay
Quinzay is a corruption of the Ancient Chinese King-sze which means capital or Big City. Hangzhou (as the city is called today), one of the eight historic capitals of China, was founded about 2,200 years ago. Marco Polo visited this city at the end of the thirteenth century. He praised the place for its beauty, referring to its 12.000 bridges and many canals.
In 1638, Matthäus Merian the Elder (he was son-in-law of Theodor de Bry's son) the published this map of Hangzhou or Quinzay in his Archontologia Cosmica. A larger map was later published by Janssonius. Both were based on Polo's travelogue. [Hangzhou was also the only Chinese city map which Janssonius included in his city atlas Theatrum Urbium Celebriorum (part VIII). This work (published from 1657) was largely based on the Civitates of the Braun and Hogenbergatlas, the plates of which he acquired in 1653. However, this plan does not come from the aforementioned work.]
Hangzhou was the capital of the southern province of Chekiang, now Zhejiang, during the Ming Dynasty. On the Chekiang map (see complete series, numbers 200-218), the city is called Hangcheu.
This tomb was destroyed under the Cultural Revolution, but it was restored in 1985.
Martini and Quinzay
It was in this city that Martino Martini became head of of the Jesuits in 1648. He also built their second church there: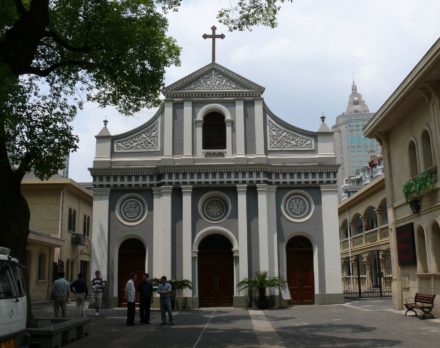 Based on the Gesù Church, it became the main church of the Order in Rome. The first Jesuit church no longer exists.
Martini died and was buried here in 1661.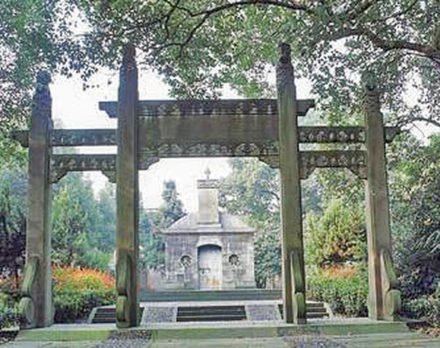 The tomb was destroyed under the Cultural Revolution, but restored in 1985.
Both the church and the tomb can now be visited.