Lucca
by
Georg Braun and Frans Hogenberg
Welcome to Italian Renaissance…
Detail
Date of first edition: 1588
Date of this edition: 1593
Dimensions (not including margins): 35,5 x 52 cm
Condition: Excellent. Sharp copper engraving printed on paper. Old coloured. Centre fold as published. Wide margins.
Condition rating: A+
Verso: text in French
Map reference: Taschen Br. Hog., p. 335
From: Théatre des Principales Villes de tout l'Univers, Liber Quartus, first published 1588, this edition 1593. Köln. Koeman, B&H4. Van der Krogt 4,41:1.4
Price (without VAT, possibly to be added):
€

700,00
(FYI +/- $777,00 / £623,00)
Unless otherwise specifically stated on this map page, we charge the following expedition costs in euro (unfortunatelly, gone up with Covid, but still too low in reality!): 
– Benelux: 40 euro
– Rest of Europe: 60 euro
– Rest of the World: 100 euro
In stock
Lucca commented by Braun (on verso):
"It lies in a plain but not far from the mountains. It possesses quite handsome buildings and admirable circumspect yet pleasure-loving inhabitants, who have succeeded in preserving their independence for a long time although their neighbours have frequently waged war with them."
TRANSLATION OF CAPTION: Tuscany, the celebrated region in Italy, with the city of Lucca, once a Roman colony, shown in its midst.
Taschen on Lucca:
Looking almost due north, this view of Lucca is depicted from a vantage point directly above the city. The exacting perspective creates some optical distortions in the representation of the buildings. The city wall (1504-1645), which still exists, neatly encloses the urban space within moats and bastions. Immediately recognizable at top centre is the Piazza dell'Anfiteatro, which describes almost a complete circle. The city's principal church, the cathedral of San Martino with its bell tower and the cathedral square in front, is discernible on the lower fringes of the city, above the bastion. At centre left is San Michele in Foro, which is set in a green field. About 20 km northeast of Pisa, Lucca was founded by the Etruscans. During the Middle Ages it was much fought over but from the second half of the 14th century it managed to preserve its independence until the First French Republic.
Lucca, a jewel to discover
Founded by the Etruscans in the 3rd century BC as Luk (meaning marsh), it became a Roman colony in 180 BC. In 56 BC (i.e. the midst of the Gallic Wars) Caesar convened Pompeius and Crassus in Lucca … (ultimately) to secure his position as warlord in northern Europe (which had come under fire by some senators.
Several Tuscan towns have completely preserved their walls. You may know Magliano, San Gimignano, Monteriggioni or Grosetto. The perfect ring of more than 4 km of Lucca is also one of them. Construction work on its fourth circle (which we admire today) began in 1513.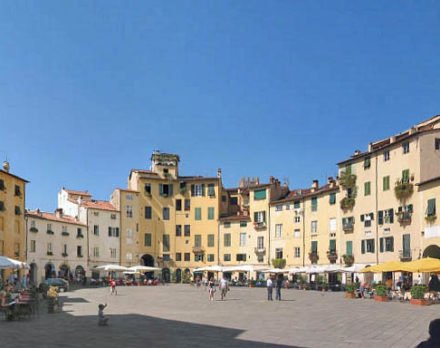 Lucca's most popular tourist attraction is its oval shaped market place, the Piazza dell'Anfiteatro. This majestic square is the reminiscent of the Roman Amphitheater built in 2nd century AD. According to my son, then 10 years old, here he had his best ever lasagna, and… he still maintains this wisdom.
Another landmark is the Torre Guinigi, dating 14th century (a corner building, two blocks down from the piazza): as one of the few tower houses of the city holm oaks grow on its rooftop: this curiosity really stands out in all respects. In this period, the city flourished under condottieri Castruccio Castracani.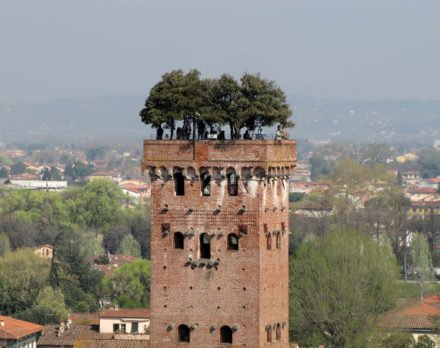 At the bottom middle, close to the city walls the local archbishop seats in the Duomo, a 12th century cathedral dedicated to Saint Martin.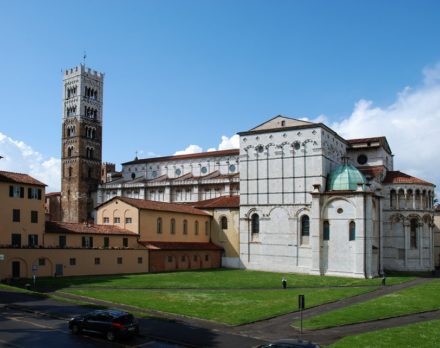 From 1160 Lucca managed, with some intervals and first as a democracy, and after 1628 as an oligarchy, to maintain its independence – alongside Venice and Genoa – until the French revolution of 1789. It painted the word Libertas on its banners. Surprisingly, it could also withstand the Grand Duchy of Tuscany under Medici rule. In 1805 Napoleon Bonaparte created the Principality of Lucca and Piombino for his beloved sister Elisa Bonaparte. It would last until the Congress of Vienna when it was given to and incorporated into the Grand Duchy of Tuscany. In 1858 Giacomo Puccini would be born in the city center. His birthplace can still be visited.