Goa – Ailhae Cidade de Goa Metropolotana de Indiae partes orientais…
Detail
Date of first edition: 1590
Date of this edition: 1599
Dimensions (not including margins): 38 x 44 cm
Condition: Strong print image with lovely old colors and sufficient margins. Professional repair at left side.
Condition rating: A+
From: Collectiones peregrinatiorum in Indiam orientalem et Indiam occidentalem, XIII partibus comprehenso a Theodoro, Joan-Theodoro de Bry, et a Matheo Merian publicatae. Francofurti. 1590-1634.
Price (without VAT, possibly to be added):
€

700,00
(FYI +/- $777,00 / £623,00)
Unless otherwise specifically stated on this map page, we charge the following expedition costs in euro (unfortunatelly, gone up with Covid, but still too low in reality!): 
– Benelux: 40 euro
– Rest of Europe: 60 euro
– Rest of the World: 100 euro
In stock
Goa, a town with history
Goa played a crucial role in the European conquests in the East. Although its origin is obscure, prehistoric rock art were found. In 1472 it was conquered by the Muslims on the local Hindu dynasty. Twelve years after the first Portuguese encounter by Vasco da Gama, it was conquered by Alfonso do Albuquerque Goa in 1510 (see picture). St Francis Xavier SJ, who went to the Far East, was buried here in 1554 in the local Basilica do Bom (see picture).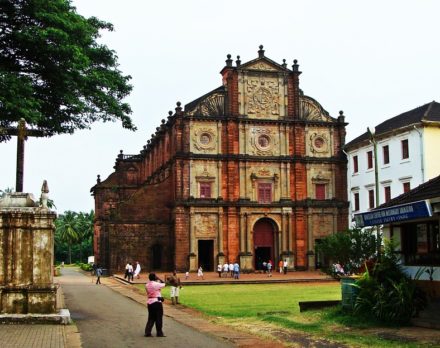 Between 1583 and 1588 Dutch traveler and cartographer of Jan van Linschoten was the Secretary of the Portuguese Archbishop in Goa. This view dating 1597 is a scaled-down version of that of van Linschoten anno 1596, by de Bry. The engraver Theodor de Bry was born in Liège in 1528, then passed through Strasbourgh, Antwerp and London, to finally settle in Frankfurt.
It shows Goa as an island, enclosed by the silted-up River Juari with links the Arabian Sea. The Dutch tried, unsuccessfully, to conquer the city (see picture). On the shore we see the dry docks and the Palace of the Portuguese viceroy. In 1543 the city counted already about 200,000 inhabitants.
Goa became the key Portuguese overseas trade epicenter of their Asian Empire for many centuries. It stayed under Portuguese authority to 12 December 1961, when the Indian army started Operation Vijay, which resulted in the annexation of Goa, Damman and Diu into the Indian Union.
Portrait of van Linschoten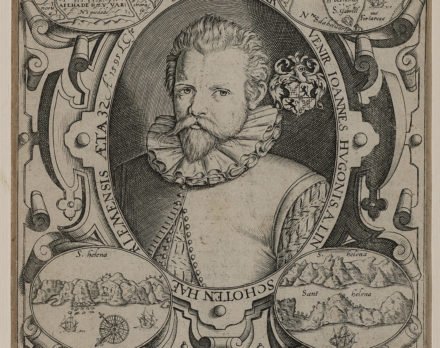 This small portrait shows Jan Huyghen van Linschoten, at age 32. It appeared as the frontispiece in his travel journal "Itinerario, Voyage ofte schipvaert van Jan Huyghen van Linschoten naer Oost ofte Portugaels Indien, 1579-1592" (published in 1596). He wrote this travel report when the Portuguese Asian empire was under threat by the English and the Dutch. His picture is surrounded by four vignettes of Goa, Mozambique and two views of Saint Helena. Van Linschoten's motto was "souffrir pour parvenir". In 1592 he settled in Enkhuizen. After having participated in two northeastern discovery voyages, he dies in Enhuizen in 1611.