Portrait Abraham Ortelius
by
Philip Galle
,

Abraham Ortelius
Detail
Date of first edition: 1579
Date of this edition:  1588
Dimensions (not including margins): 32.3 x 21,5 cm
Dimensions (including margins): 43,5 x 29,5
Condition: excellent. Sharp copper engraving printed on hard paper. Superb original colouring. Paper general tone-aged.
Condition rating: A+
Verso: text in French
Reference: Van den Broecke 0(4)
From: Theatrum Orbis Terrarum, published by Vrients. Van der Krogt 3, 1:053.
Price (without VAT, possibly to be added):
€

850,00
(FYI +/- $943,50 / £756,50)
Unless otherwise specifically stated on this map page, we charge the following expedition costs in euro (unfortunatelly, gone up with Covid, but still too low in reality!): 
– Benelux: 40 euro
– Rest of Europe: 60 euro
– Rest of the World: 100 euro
In stock
Galle's famous oneliner
The bottom cartouche reads: Spectandum dedit Ortelius mortalib. orbem, Orbi spectandum Galleus Ortelium. Or: Ortelius gave the mortals the world to admire and Galle gave the world Ortelius to admire.
Who was Abraham Ortelius?
The "Orthellius" family was originally from Augsburg. Abraham Ortel (or Ortelius) was born in Antwerp in 1527. The importance of Ortelius for modern geography cannot be underestimated: he introduced the systematic use of triangulation (as scientifically worked out at the KU Leuven by the scholars Gemma Frisius and Gerard Mercator for practical surveying purposes) in geography. He began as an engraver in 1547 and entered the Antwerp guild of St Luke as "afsetter van Karten" (the Old Dutch concept of "afsetter" means colorist). His early career is that of a businessman and most of his journeys before 1560 are for commercial purposes. In 1564 he completed a "mappemonde", an eight-leaved map of the world, which afterwards appeared in reduced form in his atlas. He became very famous during his life, as a result of which many European humanists sent him project maps for publication. In 1570 he published the (generally recognized) first modern atlas with 53 maps (on 125 atlas copies printed): the "Theatrum Orbis Terrarum". The atlas shall more than triple in size over the next decades. This portrait engraving by Philip Galle, showing the mapmaker at 50 years old, was published in the atlas from 1579 onward. The bottom cartouche mentions the brilliant one-liner in Latin: "Ortelius gave the mortals the world to look at. Galle gave the world Ortelius (to look at)". Ortelius died in 1598.
The Plantin-Moretus museum in Antwerp exhibits a beautiful painting of this master made by Rubens.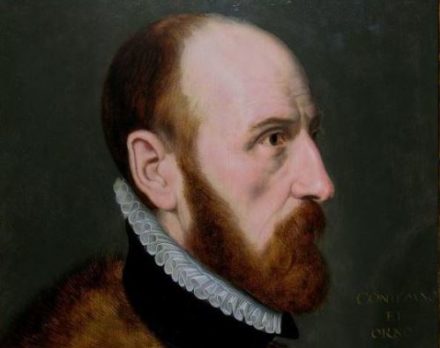 A statute of Ortelius made by Jef Lambeaux is also displayed at the Petit Sablon (Brussels).