Luxembourg, Duchy
Detail
Date of first edition: 1579 (5 states in total)
Date of this map: 1598 (4th state)
Dimensions (not including margins): 36 x 49 cm
Condition: excellent. Sharp copper engraving printed on strong paper. Centre fold is as published. Old hand coloured. Wide margins.
Condition rating: A
References: Van der Krogt 3,3380:31; Van den Broecke, 60.4; Karrow, 1/114; Van der Vekene, 1.02.C; Krippler-Muller, map 105A, p. 6-13
From: the atlas Theatrum Orbis Terrarum, first published 1570, this edition 1598, Antwerpen;  Van der Krogt 3, 1:052
Price (without VAT, possibly to be added):
€

750,00
(FYI +/- $832,50 / £667,50)
Unless otherwise specifically stated on this map page, we charge the following expedition costs in euro (unfortunatelly, gone up with Covid, but still too low in reality!): 
– Benelux: 40 euro
– Rest of Europe: 60 euro
– Rest of the World: 100 euro
In stock
Luxembourg, captured in time by Ortelius
Ortelius' map of Luxembourg was based on the 1551 manuscript map of Jacques Surhon. The map had been suppressed for security reasons and it did not appear until 1579, when Antwerp was independent for a short time. The map is finely detailed and beautifully decorated with a large title cartouche.
Bastogne, Rochefort, Malmedy and La Roche still lie in the Duchy and Bouillon (remember Godfrey of Bouillon, conqueror of Jerusalem in 1099; his castle is still there to visit) part of France! All these towns are currently part of Belgium. The Bouillon castle: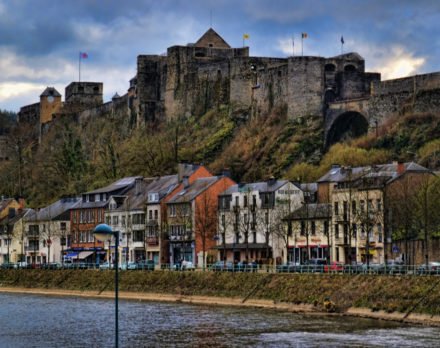 Full title: Lutzenburgensis Ducatus Veriss. Descript. Iacobo Surhnoio