Rotunda at Renelagh Park
Detail
Date of first edition:  1750
Date of this map:  1750
Dimensions copper plate (without margins): 27 (including text) x 40 cm
Dimensions (including margins): 30,7 x 43,5 cm
Condition: Very good. On strong paper with wide margins.  Original colouring.
Condition rating: A+
Verso: blank
Price (without VAT, possibly to be added):
€

300,00
(FYI +/- $333,00 / £267,00)
Unless otherwise specifically stated on this map page, we charge the following expedition costs in euro (unfortunatelly, gone up with Covid, but still too low in reality!): 
– Benelux: 40 euro
– Rest of Europe: 60 euro
– Rest of the World: 100 euro
In stock
Renelagh Park
(alternative spellings include Ranelegh and Ranleigh) … were public pleasure gardens located in Chelsea, then just outside London, in the 18th century.
The centrepiece of Ranelagh was a rococo rotunda, which figured prominently in views of Ranelagh Gardens taken from the river. It had a diameter of 37 meters (120 feet) and was designed by William Jones, a surveyor to the East India Company. The central support housed a chimney and fireplaces for use in winter. From its opening, the Rotunda at Ranelagh Gardens was an important venue for musical concerts. In 1765, the nine-year-old Mozart performed in this showpiece. Canaletto painted the gardens, and painted the interior of the Rotunda twice, for different patrons. The rotunda was closed in 1803 and demolished two years later. The organ was moved to All Saints Church, Evesham.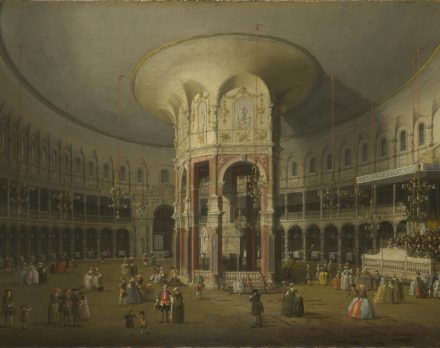 Original title of the optica print: Vue de la Compagnie a déjeuner dans la Rotonde qui est au milieu des Jardins de Renelagh a Londres