Nieuwpoort (battle in 1600)
Nieuwpoort, a rare double view
Detail
Date of first edition: 1649
Date of this map: 1652
Dimensions (not including margins): 52 x 42 cm
Dimensions (including margins): 54,2 x 64,7 cm
Condition: excellent. Sharp copper engraving printed on strong paper. Old colouring. Centre fold as published. Wide margins, with small repair at bottom left margin, not affecting the map.
Condition rating: A
Verso: text in Latin
Map reference: Van der Krogt 4, 3063
From: Novum ac magnum theatrum urbium Belgicae, 1652; Van der Krogt 43:113, page q
Plus two contemporary engravings of the Battle at Nieuwpoort
Price (without VAT, possibly to be added):
€

700,00
(FYI +/- $777,00 / £623,00)
Unless otherwise specifically stated on this map page, we charge the following expedition costs in euro (unfortunatelly, gone up with Covid, but still too low in reality!): 
– Benelux: 40 euro
– Rest of Europe: 60 euro
– Rest of the World: 100 euro
In stock
Battle of Nieuwpoort, 1600
In 1600 Dunkirk was the only Spanish port in the Netherlands. Access to Antwerp was blocked. The Spanish organized pirate raids on the fleet of the Staaten (the young Republic) from Dunkirk.
The Staaten wanted to capture Dunkirk and then give it on "loan" to England in order to diminish their debt to England. Maurits van Nassau assembled an army which would be taken by fleet from Flushing (Vlissingen). However, they were chased by a Spanish army which advanced in five day marches from Maastricht.
Maurits decided to return and cross the River Ijzer back in direction of Ostend (top view). On July 2, 1600 it came to a battle (bottom view) with an army under Archduke Albert of Austria on the dunes of Newport; one of the few battles of the 80-year war. This is one of the few open battles in the Eighty Years War. The Staatsen disposed over 9.400 infantry, 2.500 cavalry and eight guns. Albrecht had about 7.000 infantry, 1.200 cavalry and 6 guns. The Spaniards lost about 3.000 men, compared to 1.700 men for the Republic. Although the battle "won" (thanks to the cavalry) was, it was pointless because Maurits could not make any territorial advantage. Moreover, the ultimate goal (i.e. taking Dunkirk) would not be achieved. Spanish Dunkirk could continue to prey. Maurice had to withdraw his troops to the North.
Francisco de Mendoza, the Spanish general at Nieuwpoort was taken prisoner and held by the Dutch during two years. . He would be show as a war trophy , in the famous sail wagon, built by Stevin at the beach of The Hague.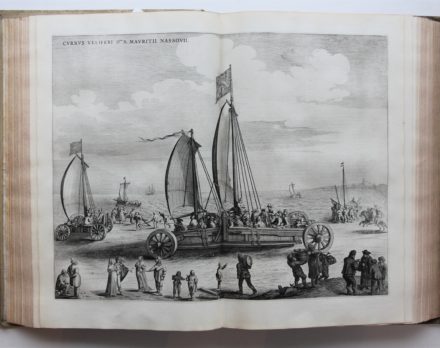 The Spanish siege of Ostend would soon begin.