Blois (Loir et Cher)
by
Georg Braun and Frans Hogenberg
Detail
Date of first edition:  1575
Date of this map: 1575-1582
Dimensions (including margins): 30,7 x 43,5 cm
Dimensions (including margins): 37 x 50 cm
Condition: Very good. Sharp print on strong paper. Wide margins. Centre fold as published.  Original colouring.
Condition rating: A
Verso: blank
Map references: Van der Krogt 513; Fauser 1548;  Taschen Br. Hog, p. 152
From: Civitates Orbis Terrarum, Vol. II, De Praecipuis, Totius Universi Urbibus, Liber Secundus; Van der Krogt 41:1-3, page 14
Price (without VAT, possibly to be added):
€

520,00
(FYI +/- $577,20 / £462,80)
Unless otherwise specifically stated on this map page, we charge the following expedition costs in euro (unfortunatelly, gone up with Covid, but still too low in reality!): 
– Benelux: 40 euro
– Rest of Europe: 60 euro
– Rest of the World: 100 euro
In stock
Blois commented by Braun
"Blois is a splendid and famous city in France, situated on the Loire, partly in the plain, partly on hills. Here are very many springs and wells, as a result of which many famous personalities who are ill come here on the advice of their doctors in order to recover their health. This has led to some royal and princely children being brought up here, so that Blois is sometimes called a royal city. Outside the town there is a very beautiful castle, the royal palace, from which one looks down into the broad pastures and river meadows."
Taschen on Blois
This bird's-eye view shows the city of Blois from the southeast, from a viewpoint above Faubourg de Vienne overlooking the Loire. The château de Blois with its great central court (3) dates from the 13th century. The Renaissance Francis I wing is notable for its loggia façade and octagonal stair tower. Today the 17th century cathedral of Saint-Louis occupies what was previously the site of the church of Saint-Solenne. The former Benedictine abbey of Saint-Laumer was renamed the church of Saint-Nicolas. In the 16th century Blois was the residence of princes and kings, such as Louis XII and Francis I.
Blois
The plate was engraved after a woodcut in Belleforest's Cosmographie Universell, Paris, 1575. Janssonius published a second state of this map in 1657 where he omitted the figures in costumes.
Blois is the capital of Loir-et-Cher departement in Centre-Val- de Loire. In 1429, Joan of Arc made Blois her base of operations for the relief of Orléans. In the 17th century King Louis XIII gave the castle to to his brother Gaston, Duke of Orléans, who lived there till his death in 1660.
The Château de Blois, a Renaissance castle, once occupied by King Louis XII, is located in the centre of the city (left on the map):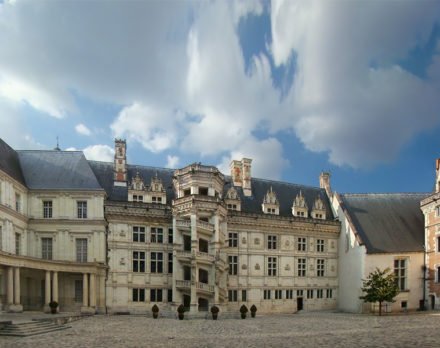 The Cathédrale Saint Louis, next to the castle: