Amsterdam: WIC warehouse
Detail
Date of first edition: 1663
Date of this map: 1663
Dimensions (not including margins): 29 x 19 cm
Dimensions (including margins): 35,4 x 30,8 cm
Condition: Very good. Strong paper and wide margins . Centre fold as published. Small tears professionally restored at back.
Condition rating: A
Verso: blank
From: Historische Beschrijving der Stadt Amsterdam, 1663
Price (without VAT, possibly to be added):
€

250,00
(FYI +/- $277,50 / £222,50)
Unless otherwise specifically stated on this map page, we charge the following expedition costs in euro (unfortunatelly, gone up with Covid, but still too low in reality!): 
– Benelux: 40 euro
– Rest of Europe: 60 euro
– Rest of the World: 100 euro
In stock
Past and Present: the Amsterdam storage facility of the West India Company
The building constructed in 1642 was originally used as storage space for merchandise of the WIC in Amsterdam. The design is attributed to Pieter de Keyser.
On the ground floor animal skins stored, which had just arrived from the trading posts such as New Amsterdam (now New York). As a cost-cutting measure the building also became the HQ of the WIC between 1647 and 1674. It was here that all  commercial activities were organised and commanded, including the trade in gold, sugar and slaves. From here also the political developments of the settlement of New Amsterdam were monitored until its capture by the English.
The West Indian warehouse remained in function until the abolition of the second WIC in 1792.
The WIC storage facility today: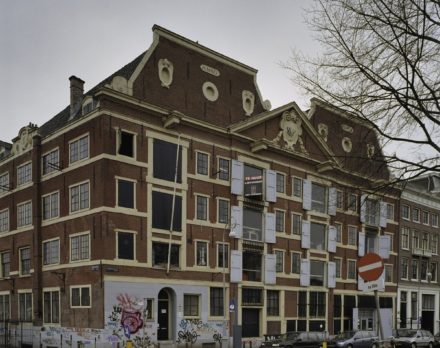 Title: Het West Indisch Huys