Mozambique – Insulae et arcis Mocambique
by
Jan Huygen van Linschoten
A unique view of the island, engraved by Baptista van Doetichum
Detail
Date of first edition: 1596
Date of this map: 1596
Dimensions (not including margins): 25 x 32 cm
Dimensions (including margins): 29,5 x 36 cm
Condition: very good. Sharp copper engraving. Top margin on verso professionally restored.
Condition rating: A
From: Itinerario
Price (without VAT, possibly to be added):
€

650,00
(FYI +/- $721,50 / £578,50)
Unless otherwise specifically stated on this map page, we charge the following expedition costs in euro (unfortunatelly, gone up with Covid, but still too low in reality!): 
– Benelux: 40 euro
– Rest of Europe: 60 euro
– Rest of the World: 100 euro
In stock
van Linschoten visits Mozambique
The excellent location Mozambique island made of it already between the tenth and the fifteenth century an important trading center for the Arabs. Mozambique Island, was a strategically important re-supply point for the Portuguese empire in Asia during the 16th century. When Vasco da Gama took this bay in 1498, he claimed it for the Portuguese. They called it Forta Reza as van Linschoten mentions it on this map in the Itinerario.
The name "Mozambique" (now the name of the country) is derived from Ali Musa Mbiki, the local sultan at the time of Vasco da Gama. However, the latter was expelled when they met. In 1507 the Portuguese came back and built a major base. Mozambique remained in Portuguese hands until 1975: Linschoten shows the Portuguese coat of arms and the national flag on the ships. Even today the fortress of  São Sebastião and Santo Antonio Church, as indicated on the map, still mark this colonial past. He mentions in the left cartouche: "seer Rÿck van Ebanhout, fijn gout en Ambargrys". Mozambique also remains the capital of Portuguese East Africa until 1898, when the southern Maputo would take over this role. Mozambique city would retain its prominent market position for the European nations in the nineteenth century.
The fortress of  São Sebastião: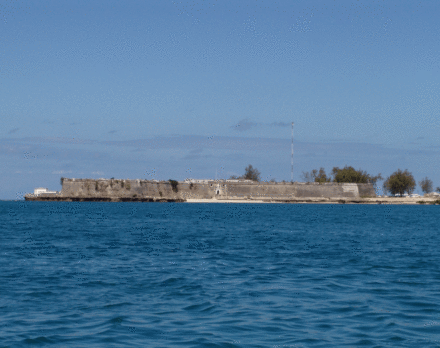 Concerning van Linschoten: In 1583, Linschoten was employed by the Portuguese crown as Secretary to the Archbishop of Goa in India. During his time in service, he accumulated much precise and valuable information on sea routes and commercial flows. Jan Huygen van Linschoten is famous for the Itinerario, an account of his voyages throughout the Portuguese East. The Itinerario was initially published in Dutch in 1596. It provided a number of highly important maps that were used extensively by Holland in its expansion throughout Southeast Asia.