Grimbergen (abbey) – Abbatia Grimbergensis celebris et Antiqua Ordinis Praemonstratensis
by
Antoon Sanderus
,

Renier Blokhuysen
Detail
Date of first edition:  1726-1727, engraved by Blockhuysen
Date of this map: 1726-1727
Dimensions (not including margins): 46,3 x 35,4 cm
Condition: Excellent.
Condition rating: A+
From: Chorographia Sacra Brabantiae, 1659, Sanderus
Price (without VAT, possibly to be added):
€

450,00
(FYI +/- $499,50 / £400,50)
Unless otherwise specifically stated on this map page, we charge the following expedition costs in euro (unfortunatelly, gone up with Covid, but still too low in reality!): 
– Benelux: 40 euro
– Rest of Europe: 60 euro
– Rest of the World: 100 euro
In stock
Still to visit in all her spendour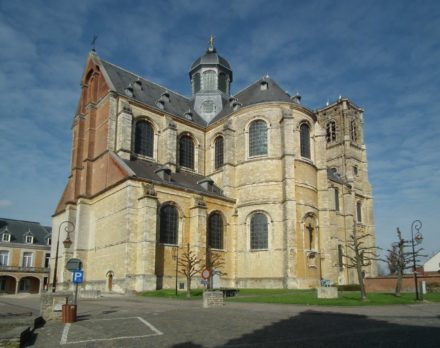 Grimbergen Abbey is a Premonstratensian monastery in Grimbergen in Belgium, established in 1128 in the place of an earlier foundation of Augustinian Canons. Most likely its founders were monks originating from the mother abbey in Prémontré (France).
In 1566 and 1579 resurgent protestants plundered the abbey and set it on fire. However, the monks returned in 1606. The building in its present form dates from 1660 and is considered one of the most beautiful and best-integrated Baroque churches in the Low Countries. It style is similar to the churches of Ninove (1635-1725) and Averbode (1664-1672). The abbey was dissolved in 1794 but the abbey church of Saint Servatius survived as it served as the parish church of Grimbergen. Further, only the entrance gate, the farm house and rectory escaped demolition. After the French Revolution the abbey was reinstated. It was elevated to the status of basilica minor in 1999. The top insets show the front and the rear of the church. The church has the largest sacristy of Belgium.
In his first part of the Chorographia Sacra Brabantiae of 1659 Antoon Sanderus had published a sketch of the abbey then to be built. This view was engraved by Renier Blokhuysen and published by Christiaan van Lom in his later edition in 1726.
Today, Grimbergen is also praised for its nice assortment of strong beers. However, since the beers are not brewed inside the abbey walls, it is not qualified as "a trappist beer" but as "an abbey beer". Cheers!