Liège – Leodium, Lütich
Detail
Date of first edition:  ca. 1650
Date of this map: ca. 1650
Dimensions (not including margins): 22 x 33 cm
Condition: Very good. Centre fold as published. Strong paper and wide margins.
Condition rating: A+
Verso: blanc
From: Theatrum Europaeum
Price (without VAT, possibly to be added):
€

175,00
(FYI +/- $194,25 / £155,75)
Unless otherwise specifically stated on this map page, we charge the following expedition costs in euro (unfortunatelly, gone up with Covid, but still too low in reality!): 
– Benelux: 40 euro
– Rest of Europe: 60 euro
– Rest of the World: 100 euro
In stock
Matthäus Merian
Born in Basel in 1593, he moved in 1616 to Germany and started working for the publisher Johann Theodor de Bry, who was the son of renowned engraver and traveler Theodor de Bry. In 1617 he married  Maria Magdalena de Bry, daughter of Johann. After the latter's death, he took over the business of his father-in-law in 1623. He specialized in town views.  His Theatrum Europeaum was a journal on the history of the German-speaking lands by Matthäus Merian, published between 1633 and 1738 in 21 quarto volumes.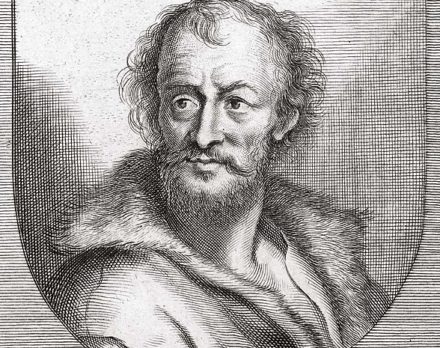 Leodium, city of the free people
This nice hilly view shows the city of Liège from the South, where the rivers Meuse and Ourthe converge. The Prince-Bishopric of Liège was a state of the Holy Roman Empire in the Low Countries, situated for the most part in present Belgium, which was ruled by a prince, namely, the Bishop of Liège.
The old center was dominated by the former cathedral Saint-Lambert and the adjacent palace of the Prince-Bishop (see engraving).
Unfortunately, the cathedral (number 20; middle left with two identical towers) was destroyed in the upheaval of the French revolution. Today a central square (the place Saint-Lambert) has been built on the same spot. The palace of the Prince-Bishops (Palais des Princes-Evêques) has survived and currently serves as courthouse. At the left of this view, the Benedictine abbey of Saint- Laurent thrones. This abbey was mainly destroyed during the Eighty Year's War. Saint-Laurent has only survived as a name for one of the quarter of the town. The city's coat of arms (top right) shows a column above a fountain, called the Perron (see picture). This monument represents the freedom of the people of Liege. In its current form it was constructed in 1305. However, its origin goes back several centuries before then.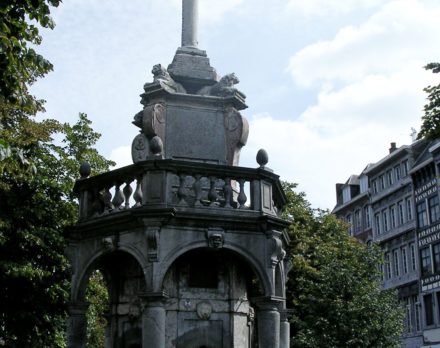 The origin of the name Leodium may go back to the Merovignian period (5th century – 8th century) meaning free people.
Although Liège is currently not the governmental capital of Wallonia (a region in Belgium), it may be considered as its cultural capital. Approximately 600.000 people live in its metropolitan area.