Oudenaarde – Aldenarda vulgo Audenaerde
by
Joan Blaeu
,

Antoon Sanderus
ON HOLD
Detail
Date of first edition: 1641-44 (by A. Sanderus, Flandria Illustrata)
Date of this map: 1652
Dimensions (not including margins): 39,5 x 50,5 cm
Dimensions (with margins): 55  x 64 cm
Condition: Excellent short copper engraving on strong paper with wide margins. Centre fold as published. Tiny tear 2 mm in bottom margin.
Condition rating: A+
Verso: text in Latin
Map references: Van der Krogt 4, 3230; Fauser 10475
From: Novum Ac Magnum Theatrum Urbium Belgicae Regiae. Amsterdam, J. Blaeu; Van der Krogt 43:113, page 35 iijO
Price (without VAT, possibly to be added):
€

1 100,00
(FYI +/- $1 221,00 / £979,00)
Unless otherwise specifically stated on this map page, we charge the following expedition costs in euro (unfortunatelly, gone up with Covid, but still too low in reality!): 
– Benelux: 40 euro
– Rest of Europe: 60 euro
– Rest of the World: 100 euro
In stock
Oudenaarde
The history of the current municipality of Oudenaarde starts in 974, when Otto II, Holy Roman Emperor and king of Germany, built one of its three fortifications on the River Scheldt at Ename to protect his kingdom against possible attacks from Francia (next to the other frontier post at Valenciennes, later on also the Antwerp). Ename grew very fast. By 1005, the town already had a couple of churches and had become the largest town in the Duchy of Lotharingia.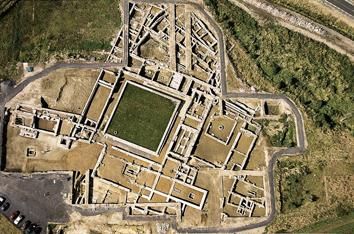 From the 15th to the 18th century, but especially in the 16th century, Oudenaarde was a world-known centre of tapestry production. The flamboyant-gothic style town hall and its belfry were built between 1525 and 1536. Since 1999 UNESCO designated it as a World Heritage Site. The city hall houses a unique collection of Oudenaarde tapestries. Vaut le détour.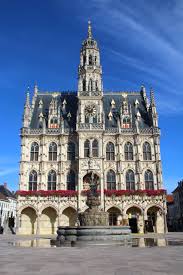 The map, produced by Anton Sanderus, was dedicated to bailiff (praetor, schout), burgomasters (consuli), and councillors (senatores) of the town of Oudenaarde by Vedastus du Plouich (all mentioned with their names).
NOTE: the towers of Ghent are clearly visible at the third frog's (zoom-in) view, at the top right.