Mechelen (Jesuit college)
by
Antoon Sanderus
,

Renier Blockhuyzen
Detail
Date of first edition:  1726-1727
Date of this map:  1726-1727
Dimensions (copper plate, not including margins): 46 x 36 cm
Dimensions (including margins): 53,5 x 44,3 cm
Condition: Very good. Sharp copper engraving on strong paper. Wide margins.  Centre fold (triple fold) as published. Slightly age-toned.
Condition rating: A+
From: Chorographia Sacra Brabantiae, (first published 1659), Sanderus; Blockhuyzen 1726
Price (without VAT, possibly to be added):
€

400,00
(FYI +/- $440,00 / £344,00)
Unless otherwise specifically stated on this map page, we charge the following expedition costs in euro: 
– Benelux: 25 euro
– Rest of Europe: 40 euro
– Rest of the World: 60 euro
In stock
The Jesuits in Mechelen
1611: opening second novitiate in Mechelen
1613: purchase house Van Wachtendonck
1615: opening gymnasium
1623-1629: tertiate from Lier to Mechelen
1624: plans divorce novitiate and college
1632-1633: construction of Our Lady's Chapel
1664-1669: construction of new cloister wing for fathers
1670-1709: construction of St. Francis Xavier Church
On average 200 – 250 students in the 17th century.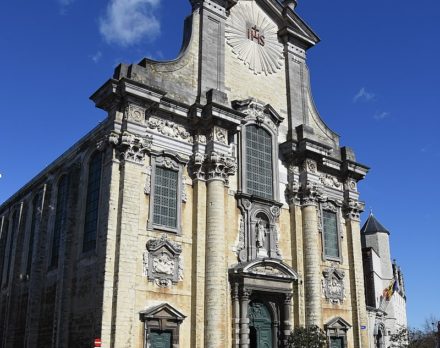 20 September 1773: all Jesuit colleges are closed under the Austrian Habsburg rule